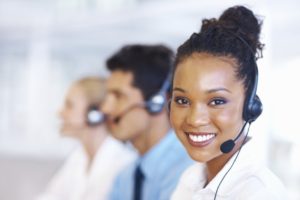 The importance of providing high-quality service to customers – which is essentially everyone we encounter every day, both externally and internally – is a given in public sector agencies. We all understand the value derived from making great impressions on the customers we serve, although our reasons could be different depending on the situation.
For example, we may be trying to serve more people in the same amount of time; preventing people from getting upset or frustrated; diffusing a situation in which someone is already upset or frustrated; seeking repeat business; or fostering our general belief that the noblest motive is, in fact, the public good. So when we say, "be good at customer service," we're making a statement that's open to interpretation.
I like to use the metaphor "people are like snowflakes… each one is different." Every staff member comes from a different environment, socio-economic background, ethnicity, value set, state, country, etc., not to mention the multiple generations working side-by-side in almost every location. They all have different interpretations of what a general statement like "good customer service" means. When you recognize that these disparities exist, you'll have a much better chance of setting your team up for success.
To begin, it's crucial to provide staff with a written document of best practices and expectations for great service. After all, how can we expect employees to deliver a high level of customer service unless we explain to them, in very specific terms, what that service level is? This document also serves as an important tool in preparing staff to work effectively with the various day-to-day situations they may encounter when striving to make a quality impression on a customer – whether directly or indirectly.
Direct impressions are conveyed when a staff member actively assists a customer in person, over the phone, or via email.  And indirect impressions are formed, for example, when customers look for helpful signage upon entering a government office, or when they see a vehicle with your agency's logo on the door, or when they visit a park and discover the condition of the public restrooms. These indirect impressions can be equally as powerful as direct impressions on the customer's perception of whether or not the agency is providing great service.
Here are some baseline examples of how "setting standards" works to define the behaviors that people should embrace when they're asked to be "good" at customer service:
In Person
Dress in appropriate work attire; appearance should be modest, neat and clean
Wear a name badge
Keep the work area neat, organized and clean
Make eye contact with the customer and smile when appropriate
Greet all customers with the request, "How may I assist you today?"
On the Telephone
Use the proper standard greeting upon answering the phone
Listen actively; focus attention on the caller
Summarize and paraphrase any actions to be taken after the call
Give the customer choices and options when possible
Ask permission before placing callers on hold, and thank them for holding once the call is resumed
Via Email
Use proper grammar
Use complete sentences instead of short commands
Spell check and proofread all correspondence
Never send an email that you'd be embarrassed to see printed on the front page of your newspaper
Avoid the use of "emoticons"
It's also a good idea to share with staff what not to say or do. For example:
Never speak badly about other team members or government agencies ("Blame the state for the budget cuts, not me!") ("Oh that Sally, she's always making that mistake.")
Don't discuss personal issues in front of customers ("I have this itchy rash that just won't go away… would you like a pen?")
Don't share personal opinions on work or current events with customers ("Who are you going to vote for?" Or, "I'm so upset with my supervisor I can't see straight!!")
Don't allow customers to overhear back-office chatter or comments, especially if the comments are related to their transaction ("I'm not going to hurry through this just because they're in a rush; they should have planned ahead.")
These suggestions only scratch the surface, and it's important to dig deep when setting standards to ensure that everyone is on the same page. I also strongly encourage supervisors to involve their team members when setting these expectations. The people who do the job every day are generally well aware of how it should be performed optimally. Most people will gladly share their opinions if asked.