The Municipal Management Association for Northern California (MMANC) is hosting another signature event, the Summer Signature Symposium. The annual signature event will be held in the City of Tracy at the Grand Theatre Center for Arts on Thursday, July 9, 2015.  The City of Tracy is proud to host the event at the spectacular venue.
The signature event will begin at 8:30 a.m. and end at 3:30 p.m. Registration will open at 8 a.m. The program will feature a total of three (3) three-hour block sessions; the first general session will take place in the morning from Dr. Frank Benest and will focus on the topic of storytelling and the effective strategies of communicating leadership stories. The session will be followed up with a tasty lunch from local catering company Town and Country Cafe.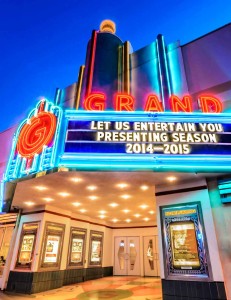 Two concurrent sessions will be offered to attendees in the afternoon. The first afternoon session, titled "Roll the Camera: How to Become Your Own Reporter," will provide cost-effective methods to learning the art of maintaining control of the news media, and will also provide hands-on exercises with social media and practicing positive story pitching. City of Rancho Cordova Communications Specialist, Ashley Downton, will be leading that session. The second concurrent session will focus on effective verbal communication. Led by Pamela Miller of Miller Consulting and Wandzia Rose of Rose Consulting, this session will focus on effectively delivering staff reports (both positive and negative), media messages, overall message delivery, and understanding how the desired outcome of effective messaging relates to the actual message content.
Both afternoon sessions are CGL certified, and one afternoon session offers 1.5 education points for the Certified Municipal Clerk and Master Municipal Clerk programs. Register for your seat today – www.mmanc.org. We hope to see you there!